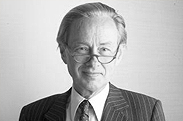 Dr. Volker Triebel
German Attorney &
English Barrister
Chartered Arbitrator
---
Kennedydamm 24
40476 Düsseldorf
Germany
Telephone +49 (0) 172 - 21 30 762
Telefax +49 (0) 2132 - 93 38 222
Mail

info

[at]

volker-triebel [punkt] com
Profile
Volker Triebel was admitted as a German lawyer (Rechtsanwalt) in 1972 and as an English Barrister (of Inner Temple London) in 1976.
He was the German member of the International Court of Arbitration of the International Chamber of Commerce (ICC) in Paris from 1985 until 1990. Since then his main focus is on national and international arbitration. He has been involved in more than 250 arbitration cases, both institutional and ad hoc: in the past primarily as counsel, these days almost exclusively as arbitrator.
As corporate lawyer he has led more than 100 corporate transactions (primarily M&A and Joint Ventures).
Because of his interest in comparative law and his dual qualification Volker Triebel respects the applicable law chosen by the parties. He recognizes, knows and respects the differences between the common and civil law systems.
As a commercial lawyer and also as a member of boards of listed German and English companies he has learnt to understand and analyse the financial and economic background of cases.
Volker Triebel was a founding member of the Düsseldorf branch of the predecessor firm of Hogan Lovells. He was a partner of that law firm until 2008 and head of the German arbitration practice. Because of the many conflicts of interest in the global law firm he retired as Of Counsel in 2012 and since then works as an independent arbitrator and counsel with offices in Düsseldorf.
In directories Volker Triebel is listed as a leading arbitrator. In 2007 Chambers Global Guide Editorial described him as "an arbitration specialist of superlative intelligence". In 2013 the Handelsblatt lists him as a Best Lawyer, one of the five most often named in the field of arbitration in Germany.