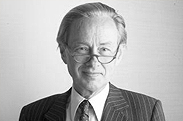 Dr. Volker Triebel
German Attorney &
English Barrister
Chartered Arbitrator
---
Kennedydamm 24
40476 Düsseldorf
Germany
Telephone +49 (0) 172 - 21 30 762
Telefax +49 (0) 2132 - 93 38 222
Mail

info

[at]

volker-triebel [punkt] com
Experience
Volker Triebel has gained a wealth of experience in more than 250 arbitration cases, formerly mostly as counsel, but then increasingly and nowadays exclusively as arbitrator. He acts as party appointed arbitrator, sole arbitrator and chairman of the arbitral tribunal in institutional (ICC, DIS, LCIA, VIAC, Stockholm) and ad hoc arbitrations (mainly UNCITRAL).
From the very beginning of his professional career he was very interested in arbitration and comparative law. As the German member of the International Court of Arbitration of the ICC from 1985 to 1990 he became intimately acquainted with institutional arbitration. He instigated the amendment of the old section 1039 of the German Code of Civil Procedure and he wrote a commentary on the LCIA arbitration rules.
Volker Triebel respects the substantive and procedural law chosen by the parties. His training as a German lawyer (Rechtsanwalt) and an English barrister, as well as his interest in comparative law, enable him to attend to and lead arbitration cases in both civil and common law cases and also in hybrid cases.
His special expertise and experience include aspects of contractual and corporate law with the focus on: M&A, joint ventures, privatisation, finance and banking, company law, oil and gas supply agreements. He was recently involved in arbitrations concerning:
pre-closing M&A disputes with complex questions on calculation of damages and business valuation;
claims for breach of a privatisation contract in Eastern Europe;
joint venture disputes with put and call options;
financing disputes in connection with a major project in Eastern Europe;
shareholder dispute in a large family-owned company;